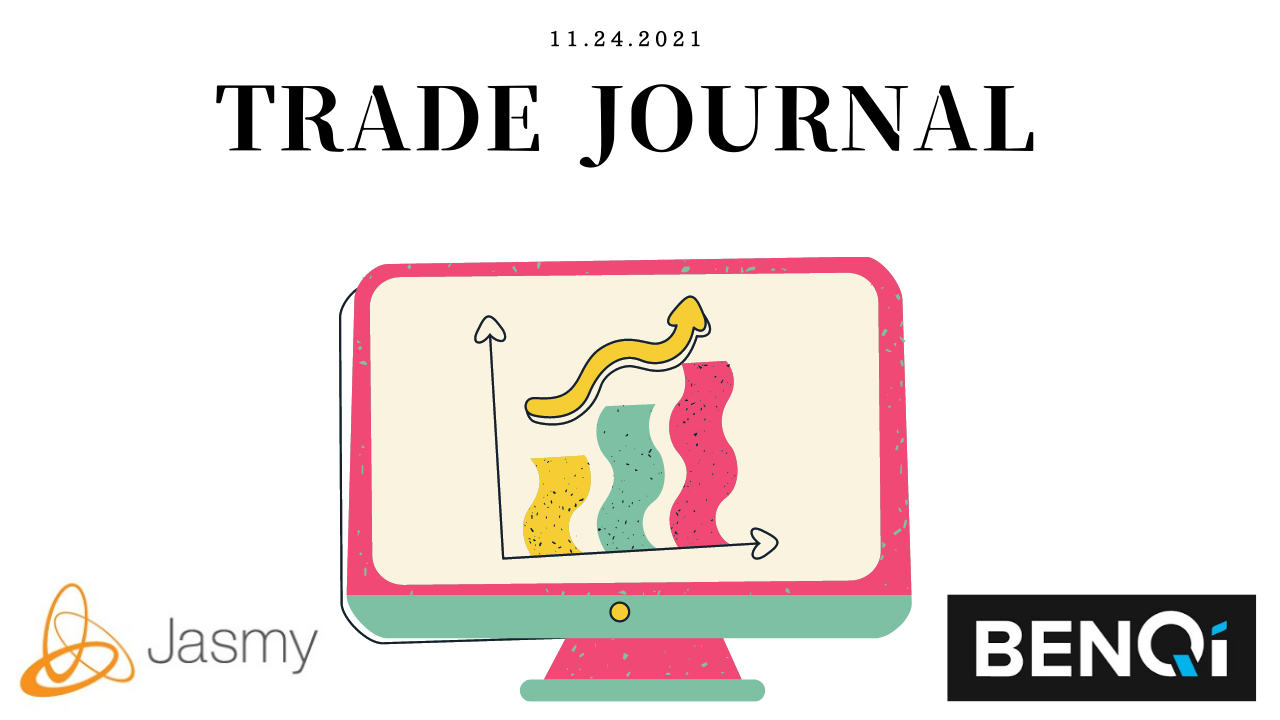 Greetings.
Here is another round of my trade journals in which I log trades I did recently in order to analyze and learn from my mistakes.Today lets take a look at two of my most recents in Jasmy and BENQI
Jasmy is a crypto with headquarters in Japan. They deal with IOT and are headed by an ex Sony exec. This coin caught my attention because of the crazy volume and price spikes. Looking at their website there are a ton of videos all in Japanese talking about the product. Not so open to the outside world. What is even more interesting is that this coin based in Japan, is not being traded on Japanese exchanges. I got wind of it via Bittrex Global.

The JASMY Trade

With this trade, I was patient and waited for it to reach back to the support zone and got in at around $0.18631 (Nov 13. 2021). I also set my target at $0.25379, which would give me a simple profit of 34.64%. Not great at all in the land of crypto where most want 100x, but for me, this is for learning and getting experience under my belt. I set a stop loss at $0.18034 ( very close, right?).

Reasoning
I set my stop loss close as it is a project I am not really interested ( though it has long term potential) in and I did not want to be stuck in the trade if the tides went against me. But they did.
Where I messed up
I realize on Bittrex I can't set a stop loss and have a limit order at the same time. They will both go through and show up in my order book but it seems to get canceled out? Not sure why. I realize on most exchanges setting a stop loss and limit buy/sell is impossible. I see why too, it would be hard to lose at all. Am I wrong on this or do some exchanges have these tools working in tandem perfectly?
So my stop did not trigger and seems to have gotten canceled out and I let it ride all the way down to $0.14 and beyond. I let this one ride and didn't cut loses as I knew it would find its way back to the target sooner than later and that it did though it took 9 days. I tried to milk some more out of the trade by creating a stop loss trigger at $0.23750 to sell at $0.23500 and I was stopped out just below the target.
Not a good or bad trade and I live to trade another day. The fact that I am working with a fairly small and consistent amount of money in these trades makes it less stressful than if I were working with thousands.

The BENQI Trade

BENQI is a project built on the Avalanche ecosystem. It is the typical Defi protocol BUT it is built on one of the most Bullish layer ones. I saw this project on Bitrue and one thing I like about that exchange is that the token info is right there and you can click and go straight to the website and do more research.
With Benqi, I got in at $0.1844 with a stop loss at $0.1611 but I did not really set a clear target which was breaking the rules. A simple screenshot of my set up would have done the trick like what I did with Jasmy, just keeping the target insight while I am on the go. The irony is, this trade turned out way better than Jasmy. I did not have the time to monitor the trade as much as I wanted to as well. The good thing I did in this trade was moved my stop up to $0.27. Benqi almost went to $0.40 during the trade, that I did not catch as I was sleeping. I woke up at 3:00 AM and took that screen shot and moved up my stop loss
So while I managed to gain a 46.42% profit, it could have been more if I had the time to manage the trade. But sleep is important you know, right?
You can't be a day trader when you don't have the days free to trade. I am slowly figuring out a strategy that works for me while building up confidence and discipline.
Jasmy and Benqi seem to be promising projects and are worth looking into. I usually trade coins that, if I end up holding the bag, there is some hope further down the line.
Looking at the Benqi chart now with the three descending wicks, I should have just sold and then went back to bed. But greed will make you think of the possibilities.🤔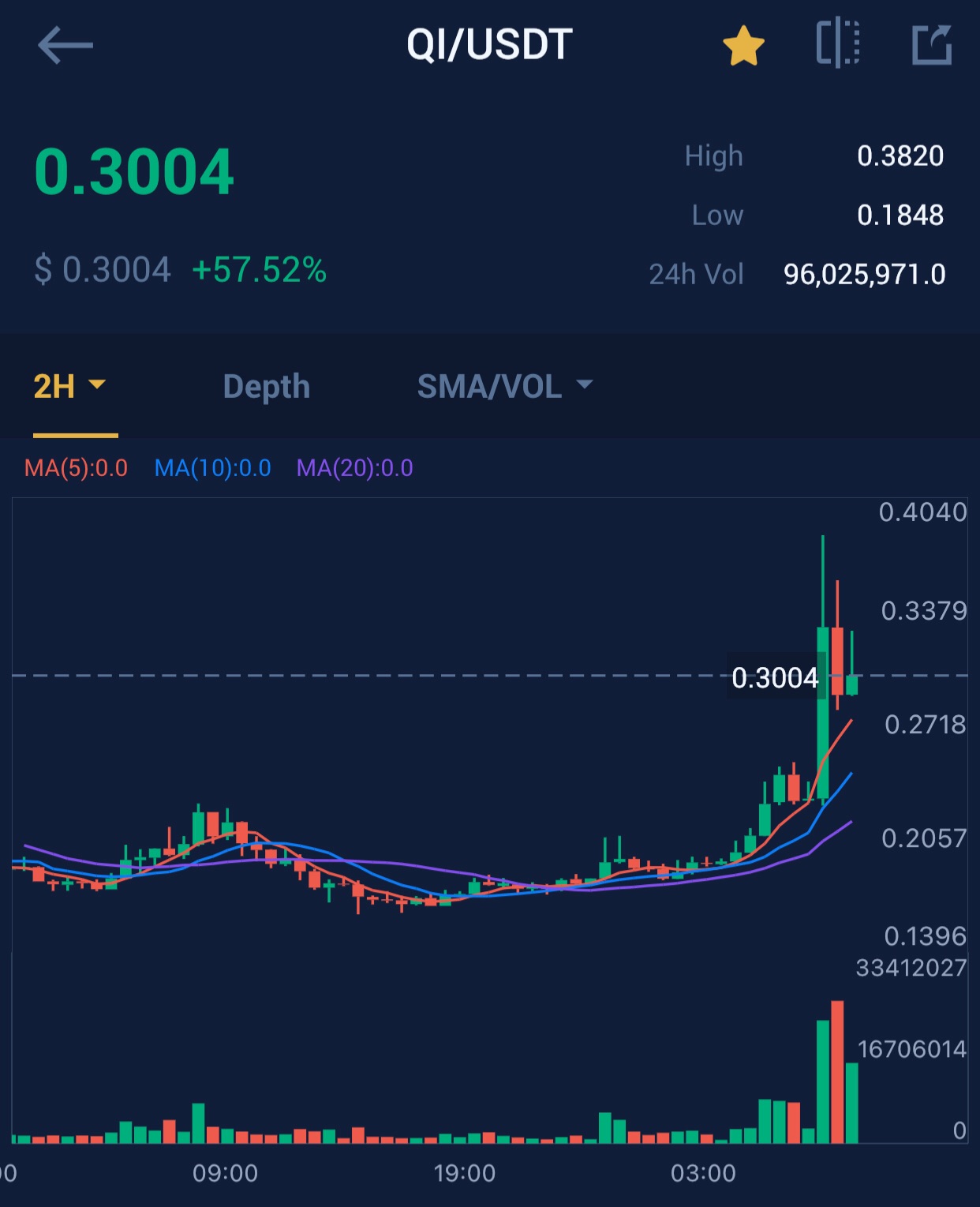 At the moment I have 2 trades open. And I got stopped out trying to get back in on AVAX which I sold way too early a few weeks ago. I guess it is reminder to let bullet trains fly and come back to real reality before hoping on.
Ongoing trades
IDEX (IDX) ( going well)
Polker (PKR) ( Meh)

Crypto Exchange Referral Links
| Coincheck | BitFlyer | Bittrex | Binance | Bitrue |
| --- | --- | --- | --- | --- |
| 🎌 receive ¥1,000 in Bitcoin after sign up | 🎌 receive ¥1,000 in Bitcoin after sign up | 🌎 Leading global exchange | 🌎 Leading global exchange | 🌎 Global exchange for newer coins |

Give me a listen on the interwebs, I make music too.

ReggaeJAHM.com
Discord | Hive Community | Reggaejahm Interface | Twitter| Buy Beats With HIVE & JAHM
Posted Using LeoFinance Beta
---
TRADING
NEOXIAN
PALNET
LEOFINANCE
CTP
CRYPTO
ARCHON
HIVE
JAPAN
POB
---
---