I'm happy that I was right there when this happened. Just a few minutes ago, Hive reached its all-time high value of 1.58$ per Hive. This is one of the biggest things for people who are staying invested in Hive. Today morning when I woke up, something told me that Hive is going to have a good pump today. I watched the price and it was stable class="table table-striped" above 1$ and in fact, it was close to 1.4 dollars about two hours back. I was curiously watching the Hive Price. A few minutes back there was a nice pump that pushed the price to its all-time high value
I'm sure now there will be lots of people booking their profits. People would be willing to sell some Hive right now and try to buy it back if it goes down. I was also wondering if I should be doing the same thing. I don't have enough liquidity right now in hand. But even otherwise, I did book some small profits when the price was close to 1$. I'm not sure if it will be wise to keep booking profits for every 50 cent pump. There is a high possibility for Hive to even go beyond 2 dollars soon. If that happens, nobody will know what will be the new floor price for Hive. People will start looking at Hive for their investment opportunities.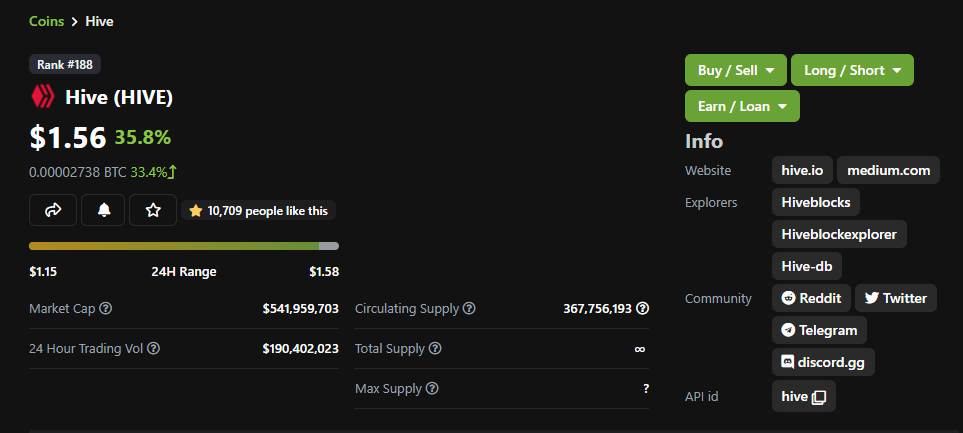 I remember buying Hive when the price was 19 cents and those days are gone now. I don't know if Hive will even go down to that price ever again. It is definitely good for the ecosystem. I was fortunate enough to write a lot of articles when the price was very low and accumulated some Hive for the future. I still have my writing habit and these days the quantity of Hive we receive from author rewards is pretty less because the price of Hive is high right now. I'm not going to stop writing.
I'm not worried about Hive going down again. I know for a fact that even if it goes down, it will definitely bounce back and pump. But I'm really happy that it is already performing very well. I would be willing to purchase some Hive when the price goes down. Maybe 50 cents is a good buy but wondering it will ever even go below 1$. Even if there is a huge crypto crash, I'm doubtful if the price of Hive would go below 1 dollar or 50 cents. Let's see what happens.
---
---
Posted Using LeoFinance Beta
---
HIVE
MARKET
PALNET
PROOFOFBRAIN
CENT
ARCHON
NEOXIAN
CTP
HIVE-ENGINE
LEO
INVESTMENT
LEOFINANCE
---
---